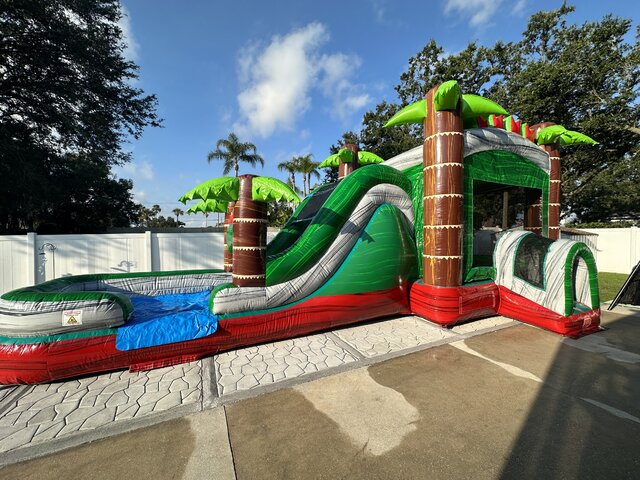 Paradise Combo




Rental Price: $250.00
Overnight: $325.00
2-Days Of Fun: $375.00
*Holiday pricing may differ



Introducing the Paradise Bouncehouse Combo, the ultimate source of fun and excitement for any event or party! This inflatable wonderland is designed to provide hours of entertainment for kids and adults alike.
The Paradise Bouncehouse Combo features a spacious bouncing area where kids can jump, bounce, and release their energy in a safe and secure environment. With its vibrant and colorful tropical theme, it creates a captivating atmosphere that will transport everyone to a paradise-like setting.
But the fun doesn't stop there! This combo unit also includes additional features that take the excitement to the next level. It boasts a thrilling slide that allows kids to experience an exhilarating ride down into a cushioned landing area. The slide adds an extra element of adventure and keeps the excitement levels high.
Safety is always a top priority, and the Paradise Bouncehouse Combo ensures a worry-free experience. It is made from durable and high-quality materials, ensuring a sturdy structure that can withstand hours of playtime. The inflatable walls and safety netting provide a secure environment, allowing parents to relax and enjoy the party while keeping a watchful eye on their little ones.
Setting up the Paradise Bouncehouse Combo is a breeze. Our team will deliver and set up the unit, taking care of all the details so you can focus on enjoying your event. It is suitable for both indoor and outdoor use, making it a versatile choice for any occasion.
Whether you're hosting a birthday party, a school event, or a neighborhood gathering, the Paradise Bouncehouse Combo is guaranteed to be a crowd-pleaser. It offers endless entertainment and keeps the smiles and laughter going all day long.
Don't miss out on the opportunity to create unforgettable memories for your guests. Book the Paradise Bouncehouse Combo today and let the fun begin!